How can we help?
Please feel free to contact us.
sales@fsmglobal.com
Need to find an effective way to manage your quotes? Replace cumbersome paper-based systems with FSM Grid's Quote Module. Quote management has never been simpler! You can create a quote as a draft, review it, submit and email it, print it for your customers, and convert it into a service order during its lifecycle. The best part is that the entire process is digital!
Customizable Pricing
When dealing with multiple customers with different demands, the pricing can be fairly challenging. It's where FSM Grid can help you. It offers customizable pricing that you can use along with any expected markup in the quote process for different customers.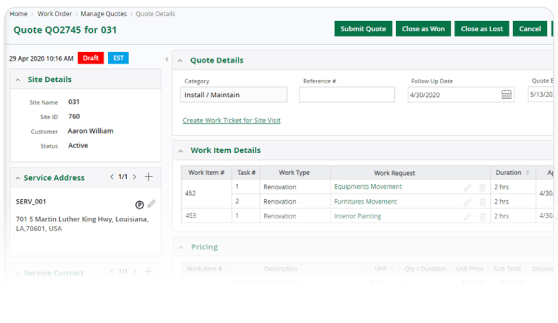 Create & Manage Quote
With FSM Grid, you can now create, manage, and send quotes straight from the system. When working on the field service opportunity, users can directly generate quotes for customers with supplemental chargers, service line items, and parts.
FSM Grid's Quote Module system is designed to offer various options to review and revise your quotes however many times you want. It also enables you to keep track of your revisions. When a quote is won, you can effectively use the system to convert it into an actual work order with a simple click. You can also duplicate a quote for a recurring customer or different customers easily.
Site Visit for Quote
Typically, when securing a job, your service manager has to send a technician to the designated location before creating an actual quote for the potential customer. However, at times, the quote isn't as accurate as expected. But with FSM Grid's accurate quote management system, you can schedule a visit, gather the required information for any quoting process, and use the quote module to generate the exact cost.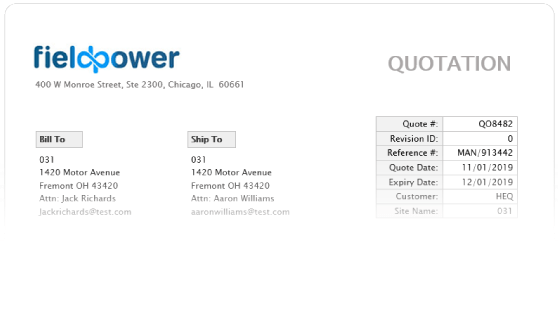 Print & Email Quote
Do you need to download your quotes as PDF files? FSM Grid enables you to do just that! This way, you can save your quotes and maintain a record. It also enables you to offer a copy of the quote to your customers. Any invoice email or quote that you send from FSM Grid will have an in-built PDF attachment.